Santa Fe County moves forward with new Administrative Office Building.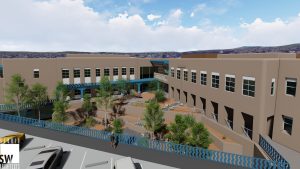 Albuquerque, NM – August 24, 2018 – The Jaynes Corporation and Studio Southwest Architects design-build team were awarded the Santa Fe County Administrative Office project on July 17, 2018. For years Santa Fe County has been seeking a way to optimize a piece of outdated property at the corner of Catron and Griffin Streets in downtown Santa Fe. Home to the now vacant Santa Fe Judicial Complex, this property is nestled between the historic First Presbyterian Church, the recently updated Convention Center, and El Corazon Condominiums – a project completed by Studio Southwest Architects in 2005.
After a Feasibility Study (2013), done by Architectural Research Consultants and Studio Southwest Architects, deemed demolition of the old Judicial Complex as the most advantageous path, the County began moving forward with a plan to redevelop the site. The growing need to consolidate their administrative departments has brought the County to the current project; a 62,000 sf public/private administration building and integrated parking solution. The $27.9M project is expected to be complete by the Fall of 2019, immediately followed by the restoration of the historic County Administration Building, which has a tentative completion date of Spring 2020.
The Jaynes Corporation and Studio Southwest Architects design-build team are currently working with Santa Fe County on the fast-tracked Mountain and Valley Regional Health Center project in Edgewood, NM. Their successful relationship brings a unified team that will work diligently to complete this important project.
Read a related article at The Santa Fe New Mexican online.