Laura Anderson EARNS Well ACCREDITED Professional DESIGNATION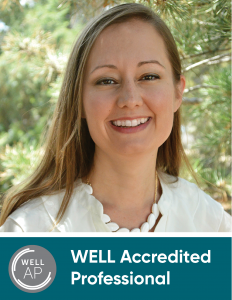 PRESS RELEASE
CONTACT: Callie Stanton –
(646) 654-3438
Albuquerque, NM – January 2023, Laura Anderson, AIA, Principal/Senior Architect at Studio Southwest Architects recently received the WELL Accredited Professional (WELL AP) designation. The WELL AP is the new, leading credential signifying advanced knowledge of health and well-being in the built environment and specialization in the WELL Building Standard™ (WELL).
The WELL Building Standard is a performance-based system for measuring, certifying, and monitoring features of the built environment that impact the health and well-being of the people who live, work and learn in the buildings. WELL focuses on seven categories of building performance: air, water, nourishment, light, fitness, comfort and mind. Pioneered by Delos, the WELL Building Standard is grounded in evidence-based medical research that demonstrates the connection between the buildings where we spend more than 90 percent of our time and health and wellness impacts on us as occupants. The WELL Building Standard is administered by the International WELL Building Institute™ and third-party certified by Green Business Certification Inc. (GBCI).
WELL Accredited Professionals have demonstrated proficiency in the field of design, health, and wellness in the built environment through the WELL AP exam. The exam is based on the expertise of leading industry practitioners, researchers and physicians, and was developed using GBCI's rigorous test development best practices. It is designed to test a candidate's knowledge and proficiency in building wellness and the principles, practices and applications of the WELL Building Standard.
To learn more, visit www.wellcertified.com.