For the past few years our firm has continued on an upswing, following the award of several significant projects throughout the state, our team has had their hands full. In an effort to manage projects more efficiently, Studio Southwest Architects has hired new team members and welcomed back a previous employee.
Eric Haskins, AIA was recently hired as Senior Architects. Mr. Haskins' architectural portfolio is robust and ranges from commercial and hospitality, to government and healthcare projects. Eric has a keen attention to detail and is a highly valued addition to the Studio Southwest Project Management team.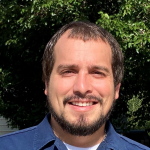 Ambrose Martinez rejoins the Studio SW team as an Intern Architect after a short, two-year stint in Seattle, Washington. Mr. Martinez has past experience with site planning and designing government, commercial, and residential projects. He holds a Master of Architecture degree from UNM and is well versed in document preparation and BIM production. Mr. Martinez takes pride in considering the time, place, form, function, and materiality that goes into architectural design. His passion lies with creating spaces that are a place of harmony, enjoyment, and a positive contribution to the community.