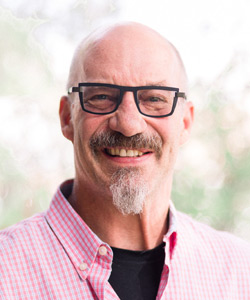 Registered Architect: NM, VT
ANDY BENSON, aia, LEED AP
Studio Southwest Architects
principal
Andy Benson received his master of architecture degree from the University of New Mexico in 1996. As a Principal Architect at Studio Southwest Architects, he is passionate about environmental stewardship and implementing sustainable design practices firm-wide. Andy has focused his career on the design of lower education facilities for school districts and Native clients across New Mexico. In recent years he has shifted his focus to include technical and high-security projects for the Air Force Research Laboratory (AFRL) and Sandia National Labs (SNL).
Andy is an active member of the community with past affiliations to the Public School Facility Authority, the PSCOC, and the USGBC. In 2008 he was appointed to the Governor Richardson Task Force for High Performance Schools and has lectured on the topic of implementing energy conscious design for the
AIA +2030 Challenge. Andy currently sits on the Board of the Professional Aerospace Contractors Association (PACA) of New Mexico.